The latest round of Rainmaker Platform updates has made its way to your Rainmaker site. In this email, I'll briefly go over the new features you have access to.
Let's start with the headliner …
Marketing Automation is no longer just for members
Previously, a visitor to your site needed to have a membership and be logged in for your Marketing Automation formulas to affect them.
Not anymore.
We've enhanced Rainmaker's Marketing Automation features so that triggers and actions will also work when the visitor is not logged in — so long as they have a RainMail cookie that represents that they are a subscriber to the automation tool.
How might you use this? Consider the following example …
Say you run a blog. And your subscribers currently receive an email every time you publish a new post. But you want to add the option of receiving a weekly digest.
You need a solution that will allow your current subscribers to opt into the new weekly digest while automatically opting out of the daily updates (because they surely would not want both).
With Rainmaker's updated Marketing Automation feature, you can do this in three simple steps:
Step One: Set up a form for people to opt into your new digest email.
Step Two: Upon successful completion of the form, redirect the user to a Thank You page. (You do this in the form settings.)
Step Three: Set up a Marketing Automation trigger for the Thank You page that automatically removes the user from the original daily email list.
Previously, Step Three would not have worked for a simple subscriber who was not also a site member. Now it will because you have the user's email address, and it gets passed through to the Thank You page, making it a cinch to simply remove it from the other list.
How might you be able to utilize not-logged-in Marketing Automation to give your visitors a better, more adaptive experience, and to lighten the workload on yourself as well? (Imagine having to manually switch users from daily email to digest. Yeesh!)
Oh, and speaking of RainMail …
RainMail list management improvements
RainMail users have asked for more options when it comes to list setup and management, and we've made it a priority to deliver them. The next steps were taken in this release.
In addition to a much cleaner snapshot view of all your RainMail lists (designed by Rafal), you can now:
View subscribers by list
View recent mailings by list
Edit important list settings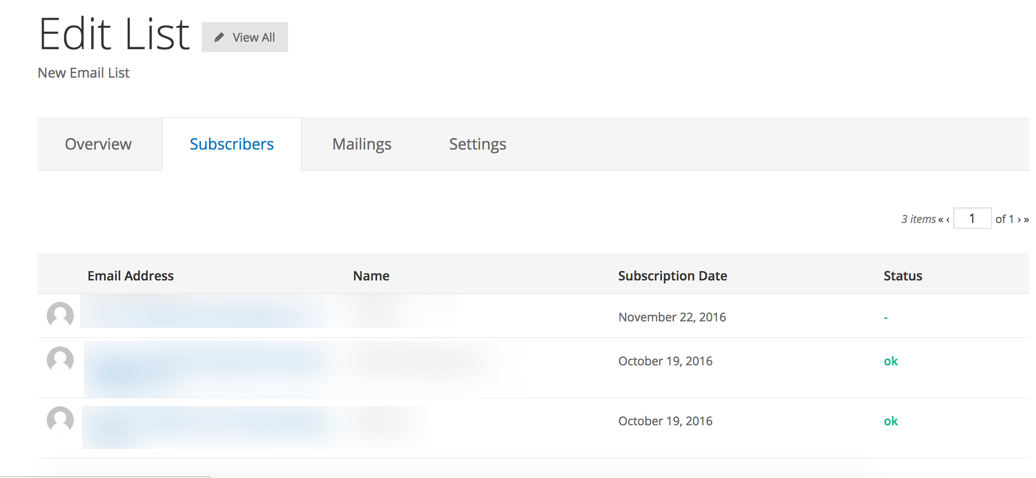 Go to Content > Content Tools > Subscriber Lists to see the new options you have for your RainMail lists.
Also, in terms of RainMail, we've made some under-the-hood fixes so that activating RainMail no longer negatively impacts emails that get sent via forms. Previously, having RainMail active was increasing SPAM scores for form notification emails. The has been remedied.
Now onto the rest of the updates in this release …
New Labs feature, new theme, and more!
We've added a new (or shall we say updated) Rainmaker Labs feature in this release. A new and improved Visual Page Builder is here, and ready for you to test.
Note: it's usable, but not yet in its final form. That's why it's in Labs after all. 🙂 Rest assured, it will continue to be developed as the high priority that it is, and your feedback will help us to improve it.
And that's not all …
We also added a new theme — one of the fastest-selling new themes in the history of StudioPress! It's called Smart Passive Income Pro, based on the popular design of Pat Flynn's website. Check it out in Design > Themes.
You also now have the option to hide protected LMS content from course outlines that are automatically populated using the [ lms_list ] shortcode.
To do this, simply add the hide_protected="true" attribute to the [ lms_list ] shortcode, and protected LMS items will not be shown in the course outline to users who don't have access.
And, as always, we've fixed several bugs to make your experience using Rainmaker, and the experience of your visitors using your site, smoother and better.
Enjoy all the new features!
[Editor's note: The shortcodes referenced in this post are not listed in the exact formatting as you'd use them, so they don't fire on this page. They have extra spaces between the brackets.]