Earlier today, your Rainmaker Platform website received its latest injection of updates.
You now have a handful of exciting RainMail updates (including the ability to tag subscribers who are not logged in, which we'll dive deep on), a new theme to use, plus a new Labs feature that integrates your site with your Medium account.
Let's start with the headliner …
Tag and Redirect for subscribers who aren't logged in
This is the first step toward more complete Marketing Automation for all visitors to your site, not just logged-in members.
The update to Tag and Redirect allows you to set tags for your RainMail subscribers without requiring them to log in.
I'm personally excited to use this. And if you'll indulge me, I'll share a quick use case to illustrate how you might use this new feature.
Tag and Redirect use case example
A few weeks back, I was doing some work on AssemblyCall.com and wanted to tag my subscribers based on their interest, or disinterest, in the "Deal of the Week" emails I send out each Friday. Naturally, I wanted the process my subscribers would go through to express their interest or disinterest to be as simple as possible.
The easiest way, of course, would be to default to one state (in this case, interest in the Deal of the Week emails), and then provide the option to opt in to the other state via a simple click.
Example: Click here to opt out of future Deal of the Week emails.
Ideally, just with a click, that subscriber would then be tagged as disinterested in Deal of the Week emails, and I could then suppress them from future Deal of the Week blasts. Easy as pie.
The only problem, before this latest Rainmaker update anyway, was that the subscriber would have to also be a member and log in before clicking the link for the tag to be applied. That's too convoluted. It needed to work with a click.
And that's why our Rainmaker dev team is great — because the natural evolution of the Tag and Redirect feature has been in the works all along, and now it's here. 🙂
So now, I can set it up so that my subscribers only have to click one time to express their disinterest and opt out of my Deal of the Week emails. And it doesn't take much to set up on my end either.
Step 1: Identify the URL I want to redirect people to after they click.
I simply create a page that confirms they will no longer receive the Deal of the Week emails. (I might also provide instructions for what to do if they clicked by accident, and then offer some direction for what page(s) on my site they may want to visit next.)
For purposes of this example, pretend my redirect URL is http://assemblycall.com/rainmaker-example. (It's not a live link, so don't bother clicking.)
Step 2: Create a Tag and Redirect Page.

In the blue admin bar, just go to Add New > Page, then add a title and the Tag and Redirect shortcode.
Title: Opt Out of Deal of the Week Emails
[tag_and_redirect tag="disinterested_in_deal_emails" value="yes" url="http://assemblycall.com/rainmaker-example"]
You add this to the end of your redirect URL. This is what tags the subscriber without he or she having to log in.
I also want to provide a descriptive URL slug on this Tag and Redirect page, because this is the link I will provide to my subscribers to click. So, I might make the page have this URL, for example: http://assemblycall.com/opt-out-of-deal-emails
This is how it would look in the page-edit view: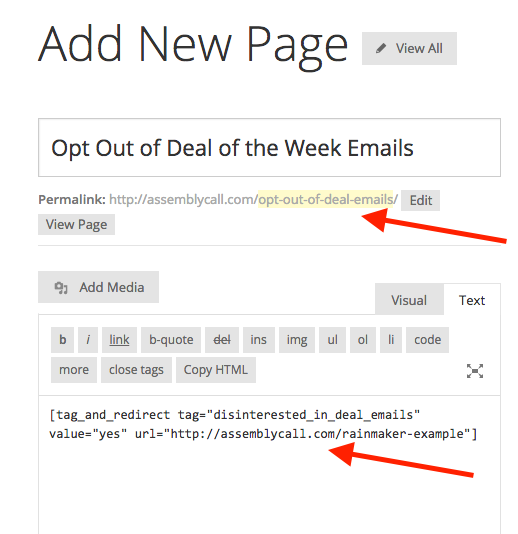 Think of this as a gateway page.
Your subscriber will click the link to this page's URL that you give them (http://assemblycall.com/opt-out-of-deal-emails), but they won't actually end up on this Tag and Redirect page. They might see it for a split second, but then they will be quickly redirected to the destination URL you included in the shortcode (/rainmaker-example).
Which just leaves one final step …
Step 3: Add a parameter to your link and give your subscribers the opportunity to click!
You have your link: http://assemblycall.com/opt-out-of-deal-emails.
Now you just need to add one thing to it for the tagging to work for subscribers who are not logged in.
Add this to the end of it: ?rm_sub_unique=
So the final link, which you will give to your subscribers to click, will be: http://assemblycall.com/opt-out-of-deal-emails/?rm_sub_unique=
Those who click will be tagged as disinterested_in_deal_emails and redirected to the /rainmaker-example/ page.
Those who don't click, obviously, won't. 🙂
Don't worry if you can't remember all this!
We are working on an easier way for everyone to use these features without knowing the shortcodes. And, as always, the Knowledge Base is your friend if you have additional questions about how to use this feature.
Other RainMail Updates
The 2.8 release features a number of other important (and oft-requested) RainMail updates as well.
Edit Opt-in confirmation email
You can now edit the text of the opt-in confirmation email that is sent right after people subscribe to one of your RainMail lists for the first time. The opt-in confirmation email includes the link your subscribers click to confirm their intention to join your list.
Note that once someone has confirmed their opt-in to one of your lists, they won't have to confirm again to be placed onto another list. (This is a reason to not include vital information in confirmation emails, because existing subscribers might miss it when they join a new list.)
You can, of course, stick with the default confirmation email, if you choose.
Go to Settings > Email to view all your RainMail lists and then click the envelope icon next to the list whose opt-in confirmation email you'd like to edit.
Set postal address
According to many different laws across many different countries, marketing emails are required to have a postal address listed on them. This is typically done in the footer. The default postal address for all RainMail emails is our Rainmaker Digital postal address.
You may now set this postal address to your own address.
Navigate to Settings > Email and you will find the section for Postal Address in your RainMail settings.
Note: Keep in mind that to stay in accordance with the law, a subscriber must be able to reasonably reach you at this postal address.
Plain Text email template
There is now a fourth email template for you to use when you send RainMail broadcasts and autoresponders. You can skip all the fancy HTML and send emails via plain text.
(I have to admit, some of the most effective marketing emails that come into my inbox are stripped down to plain text. Done correctly, they can have a more personal, intimate feeling.)
Navigate to Settings > Email and you will find Plain Text as an option for your Default template. (You can also choose Plain Text as the template for any individual broadcast.)
Shortcodes work in email subject lines
Have you ever been scanning your inbox and caught your name in the subject line of an email? It doesn't happen often, but when it does, it always catches my attention.
Now you can do this in email broadcasts to your RainMail subscribers.
Just use the shortcodes Subscriber and in the subject lines of your broadcast and autoresponder emails to include a subscriber's first name, last name, or both. (Note, do not use them in confirmation email subject lines.)
Important: Do not confuse these shortcodes with the and shortcodes that you use to personalize website pages or internal system emails. Those will not work in RainMail subject lines. Using the Subscriber and shortcodes in RainMail subject lines will work for both subscribers and site members.
Under-the-hood enhancements
And, as usual, we completed some under-the-hood enhancements that don't make for particularly compelling copy, but will improve your experience while using RainMail features, as well as the deliverability of the emails you send.
New Theme
One of our most popular themes over at StudioPress is Wellness Pro, and now it's available as an option inside your Rainmaker dashboard.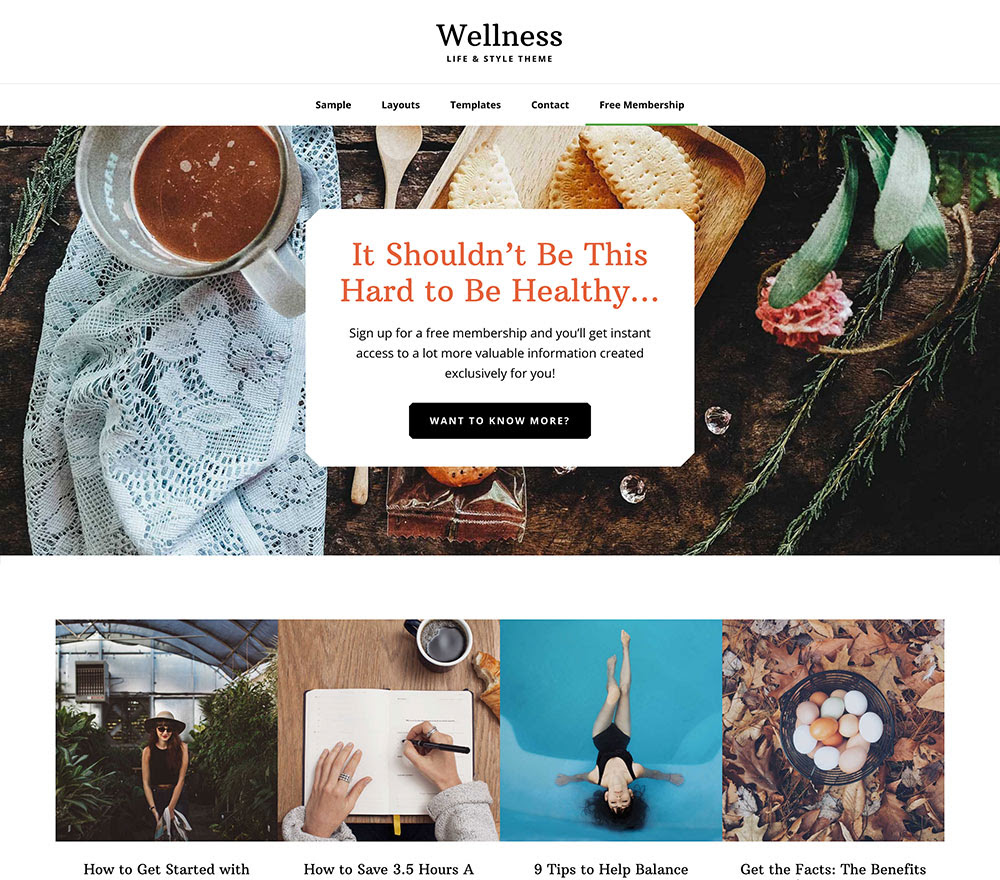 To check out the demo, or to see how Wellness Pro looks with your content, navigate to Design > Themes from within your Rainmaker dashboard.
And finally, the last noteworthy update in this release …
New Labs feature: Medium syndication
Do you publish content on Medium? A lot of people are doing it these days, and with great success. A popular (and effective) strategy is to use Medium to syndicate content that originates on your own blog.
None other than Brian Clark himself has discussed doing this.
Using Rainmaker's Medium syndication tool, you can automatically publish a blog post to your Rainmaker site and to your Medium account simultaneously.
The big benefit? A canonical tag is automatically added, which eliminates the fear of Google retribution for duplicate content.
There is a widget in the post edit screen that provides the relevant options you'll need to set if you want to republish a piece on Medium: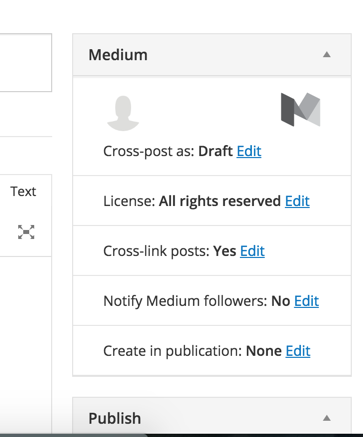 Simply adjust the settings as you want them, and Rainmaker will do the rest.
To try out this feature, make sure you have Rainmaker Labs activated (you do so in the Settings > General tab), then navigate to Settings > Labs and find the Medium option.
And that's it! Well, in addition to the usual bug fixes and system enhancements that make everything run smoother.