The latest Rainmaker release made its way to your website today. Let's run down what is included in this update …
Email Opt-In Forms
We'll start with one of the most oft-requested features by Platform users.
We have reworked the email opt-in widget in Design > Content Areas to integrate with your email provider of choice. And not just for RainMail. It works with all third-party email services that Rainmaker integrates with. (As we add more email services, they will all work with this opt-in form.)
In fact, as you'll see below, you can use the form with any email service provider — you'll just have to get your hands a little dirtier with code to use it for services that don't currently integrate with Rainmaker.
And if you are already using the email opt-in widget, don't worry. You don't need to do a thing and it will continue to work as it has.
To add an opt-in form to your site, navigate to Design > Content Areas and then add the "Opt in Form" widget to any content area.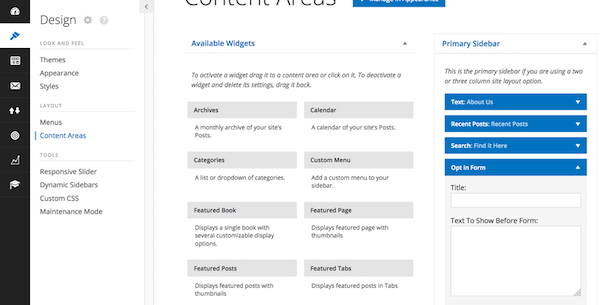 Then, choose your email marketing provider (only those that your site is integrated with will be listed) — or pick "Custom" if you are using a provider not currently integrated.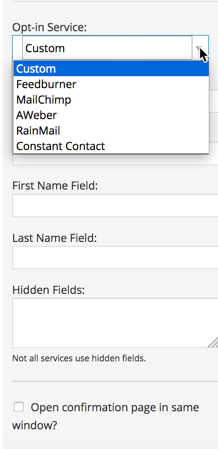 Finally, choose the list this particular form should add subscribers to, and fill out the rest of the pertinent display information requested.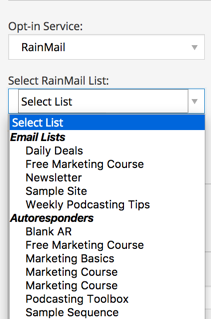 Then you're all set to start building your list!
Other Email Enhancements
In addition to the new opt-in form widget, you now have some additional email personalization and branding options.
Navigate to Settings > Email to apply these new settings (like the ability to edit the tagline in your footer).
You also now have more at-a-glance reporting for Autoresponders, including:
Recipients
Open Rate
Click Rate
Unsubscribes
Additional New Features
Before we get to the exciting new Labs features added in this release, here are a couple of other additional new features:
Duplicate Book:The Book post type can now be duplicated like all other post types. One click will create a draft duplicate of the selected book.
Affiliate Creative:You can now provide creative content, such as a text link or image banner, for your affiliates.
New Labs Features — including GoToWebinar Integration!
It won't surprise you to learn that the GoToWebinar integration is quite exciting for me and for Chris Garrett — given how often we're hosting webinars this year.
And if you're not aware of all the webinars we have planned for 2017, make sure you check out the January newsletter.
Actually, it would be more accurate to say that Clare Garrett and Will DeWitt are most excited for this new feature, since they are the ones who actually set up the GoToWebinar registration pages for us. 🙂
Anyhow, here's how it works …
First, go to Settings > Rainmaker Labs to activate the GoToWebinar feature.

Once you have activated the GoToWebinar feature, you'll need to link your Rainmaker website to your GoToWebinar account. Go to Settings > Content to do this.
With your Rainmaker site linked to your GoToWebinar account, you will now be able to easily create buttons that automatically register your site members to your GoToWebinar account.
Note: This feature only works for logged-in site members right now, as Rainmaker needs their email address and name for the automatic registration to work. We suggest you either protect the page so only certain members can view it, or use [ show_to ] / [ hide_from ] shortcodes to ensure it's only seen by eyes that can take action on it.
Next, open up a new post or page and you'll see the "Add Webinar" button right below in between the headline and content editor. Click that button.

Then you can choose from all of the upcoming webinars in your GoToWebinar account. (For now, you'll need to set your events up at the GoToWebinar website.)
You'll notice that you also have a few other options to choose from:
Select webinar: Choose the event you want to register people for.
Button text: Define the text that will display in the automatically generated button.
Auto register: Automatically register your logged-in members for the webinar simply by arriving at the page.
Redirect: Add a thank you page that users are redirected to after clicking the registration button.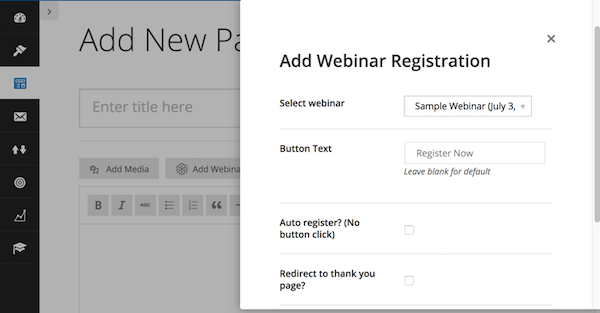 Once you're satisfied, and click to proceed, you will see this shortcode in the content edit area: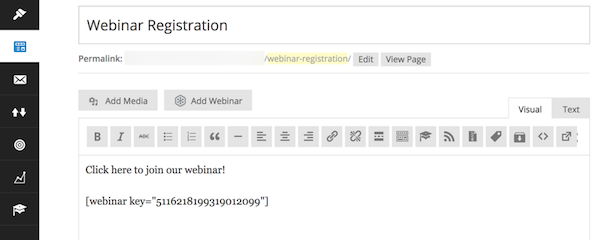 This shortcode will add the GoToWebinar button to your page automatically.

So when site members visit your page, they just click once and they are registered!
We added another new feature to Labs as well, one that many of you have been requesting …
Payment Notification Emails
You can now set up daily payment summary emails for your sites administrator(s).
You can also create customer emails for the following payment events:
Upcoming Payment
First Failed Payment
Order Nearing Cancelation
Order Canceled
Simplified Shortcode Usage
Finally, we also added an enhancement to the Visual Page Builder that adds support for several common shortcodes. This makes it much easier to add and edit shortcodes on your pages.
That's it for this update. Enjoy using these new features!